Welcome to Iowa City Boys Baseball!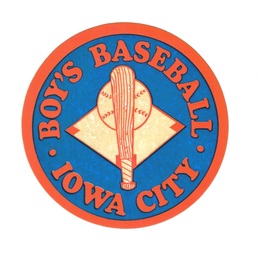 Iowa City boys baseball serves Iowa City youth with an opportunity to learn baseball, teamwork and meet new friends. Our league began in 1956 and started with 16 teams and only 2 bags of equipment. In 1960, Howard and Mary Villhauer joined the organization. Mary continues to serve the league as our concession stand manager and Secretary/Treasurer.

Today Iowa City Boys Baseball plays on 8 diamonds in City Park in Iowa City and continues to work to improve the opportunities for our players, coaches and parents to enjoy youth baseball. We are steadily working with the city of Iowa City to improve our facilities and local businesses to keep ICBB a great value.
---
---
ICBB NEWS
Flood Announcments
7/29/14 - We are less than a week away from practices and we hope to announce rosters to coaches later today. We have received more registrations than anticipated and we expect to have 4 PM teams, 4 JR League teams and 7 SR League teams.

We are more confident today than we were last week that we will be ready to play our games at City Park but we will likely be forced to conduct practices for a few of our teams at another park. We will finalize and post the practice schedule later today. Stay tuned... more information to come as the week progresses.

7/23/14 - The flood waters continue to recede and we are now likely able to play our Fall season at City Park! We will need to stay off of diamonds #1 and 2 for our practices. We are hopeful that we will be able to use those diamonds for our first game. It is possible that we will need to play some SR League games in August at an alternate location but we are hopeful that will not be necessary.

7/20/14 - This year has brought another round of flooding to City Park that will greatly impact our Fall season. We are meeting with city officials early this next week to finalize plans for our Fall season. Our Fall season will go on and will likely take place at an alternate location. We will have more to add later this week.
---
IMPORTANT DATES
Click an item for details
---
We will post newsletters here and will email parents and all who are interested with a notice that a newsletter has been posted. We will also use this list to make other important announcements. Please subscribe to our mailing list below.
---
Now you can help us raise funds to improve our facilities by doing what you were going to do anyway! Click the Amazon banner before shopping on Amazon and Iowa City Boys Baseball will receive up to 6.5% of the sales! Thanks for your support!